"Oi you! Bounder! It's your watch!"
— Scarface to Bounder before he leaves for watch.



Bounder before he leaves for watch.

Biography
Name
Bounder (TV series)
Unnamed (books)
Species
Red Fox (in the books)
Blue Fox (in the TV series)
Gender
Male
Status
Deceased
Cause of Death
Bitten by Adder
Mate
None
Offspring
None
Appearances
First Book Appearance
Fox's Feud
First TV Appearance
Like Father, Like Son
Voiced by
Rupert Farley (UK)
Oliver Stritzel (Germany)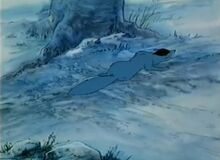 Bounder is a blue fox who appears in the books and the TV series, although he is never named in the books. In the TV series he is the son of Scarface and brother of Ranger, but in the books he is referred to as Ranger's cousin. Like the rest of his family he is a blue fox in the TV series, which in reality is called a silver fox.
Bounder is only seen briefly in both the books and the TV series when he is killed by Adder after he is told to kill one of Scarface's family. In the books Adder attacks him by the stream as he is watching some water rats, but in the TV series the attack takes place as Bounder takes his place on guard duty for his family. It is possible that he appears earlier than this in the TV series, but he is not referred to by name until then.
Appearances
Edit
Books
TV Series