Mrs. Hare is a hare who appears in the books and the TV series. She travels from Farthing Wood to White Deer Park with Hare and their two leverets in the book, but the leverets are not born until they reach the park in the TV series. She is killed by Scarface in both the books and the TV series.
The Animals of Farthing Wood
Edit
Mrs Hare keeps quiet for most of the journey to White Deer Park, and her main concern is to ensure the safety of her family, particularly her young leverets. When the animals arrive at the quarry she remarks on how still and quiet it is and suggests that they could live there quite happily. This is disputed by Squirrel because of the lack of trees and Hare agrees that the group should carry on with the rest of the journey. In the large farm fields, Mrs Hare tells her husband and her young leverets not to eat any of the plants, stating that they don't look right at all. At the end of the journey, Mrs Hare arrives safely at White Deer Park with the majority of the other animals.
In the Grip of Winter
Edit
Mrs Hare only appears very briefly during the winter and keeps quiet the majority of the time. When Fox asks Hare to help him look for the missing Badger, she tells him not to put himself in danger and to think of his family first, but Hare eventually agrees to go anyway. Later one of her young leverets is killed and eaten by a stoat, but neither she nor Hare is present to witness it.
Fox's Feud
Edit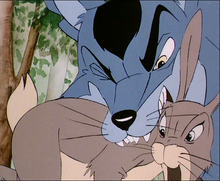 Mrs Hare is killed by Scarface when strong winds blow through the park, causing the hares to dash around aimlessly in all directions. Her death is seen by Hare, who collapses and is unable to speak, and Leveret, who tells the other animals what has happened. Hare calls for revenge on Scarface and offers to sacrifice himself to help achieve it, but Fox tells him there will be no more sacrifices.
Appearances
Edit
Books
TV series