Mrs Vole in the TV series

Biography
Name
Mrs Vole
Species
Field Vole
Gender
Female
Status
Deceased
Cause of Death
Killed by Scarface
Mate
Unnamed male vole
Offspring
Vole
Appearances
First TV Appearance
The Wood in Danger
Voiced by
Sally Grace
Mrs Vole is a vole who appears in the TV series. She is the mother of Vole, with whom she travels from Farthing Wood to White Deer Park. Mrs Vole is killed by Scarface during the animals' first winter in the park.
No mother of Vole's is ever mentioned in any of the books, and it is unlikely that his mother would have survived to make the journey to White Deer Park as Vole is one of the most senior members of the original group of voles.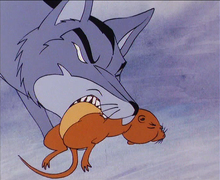 Appearances
Edit
TV series