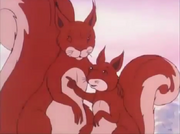 The Red Squirrels are a family of squirrels who are seen only briefly in the first episode of Series 2. They are made up of an adult couple and one young squirrel. They act in a very hostile way towards the grey squirrels when the Farthing Wood animals arrive in White Deer Park and are later seen throwing nuts at them. They and their kind are never seen again in the TV series.
Mate: Multiple Pairs 
Offspring: Multiple Litters

Enemies: Squirrel, Mrs. Squirrel
Appearances
Edit
TV series
---

This article is a stub. You can help Farthing Wood Wiki by expanding it.
---